About us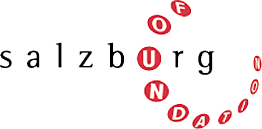 The Salzburg Foundation is a private initiative dedicated to art in the public space. Established in 2001, the foundation views its activities as a reply to traditional patronage in Salzburg.
Our aim is to set accents of contemporary art on the highest level in the World Heritage city, and to lend it fresh artistic impulses. Over a period of ten years, the Art Project Salzburg will annually invite a distinguished artist to create a work especially for the city.
Organization and implementation of the projects are conducted in close collaboration among the Salzburg Foundation board, artistic director, foundation council, and advisory council. Responsible for business management is the Bonn Foundation for Art and Culture.
The Salzburg Art Project
The Salzburg Art Project provides opportunities for challenging and thought-provoking encounters between Salzburg residents, international artists, and visitors to the city. The long-term aim of our activities is to create an outstanding art and sculpture park.
An artist is chosen annually for participation by an independent team of international curators, comprising Walter Smerling (Bonn), Michael Auping (Fort Worth, Texas), Danilo Eccher (Torino), and Lórànd Hegyi (St. Etienne). The artist is invited to Salzburg to develop ideas and visions, in the city and for the city.
Dialogue with the Commercial Sector
The special nature of the project lies in the fact that, while each of the resulting works of art is passed on to the city, no recourse to public funding is taken. Execution of the works is enabled solely by personal, ideal, and financial commitment on the part generous private donors. Thanks are due especially to Credit Suisse (Deutschland) AG and Prof. Dr. h.c. mult. Reinhold Würth, who have generously accompanied the projects.
All of the previously completed projects of the Salzburg Foundation, and those planned for the future, have been and will be made available to the city of Salzburg and its public as long-term loans for the public space. This process is unprecedented in scale, and only through a close cooperation between the private and public sector can it be made a reality.